Progress: Identification work
Many aquatic benthic macroinvertebrate species, mainly aquatic larvae, in the rivers of the partner countries have not been described yet. Therefore, one challenge of the project was, to identify the collected animals to best (lowest) identification level (family, genus, or specie).
Top taxonomists and resource persons (Dr. Karel Brabec, Berthold Fliedl, Dr. Wolfram Graf, DI Anne Hartmann, DI Thomas Huber, MSc Thomas Korte, Dr. Tomas Soldan, MSc Hasko Nesemann) aided and identified selected animals at the workshop. They produced an operational taxalist and appropriate identification keys. Finally, Asian and European scientist identified the animals together at a workshop in Kathmandu under the guidance of these taxonomic experts (22/08 - 07/09/2006).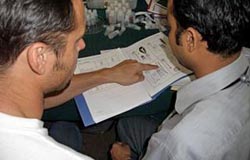 Thanks to external top taxonomists who helped to identify animals:

Dr. Ernst Bauernfeind, Dr. Dirk Brandis, Dr. Berthold Janecek, Dr. Manfred Jäch, Dr. Albrecht Komarek, Dr. Hans Malicky, Dr. Ignac Sivec, Dr. Hebert Zettel